Aircraft Cleaning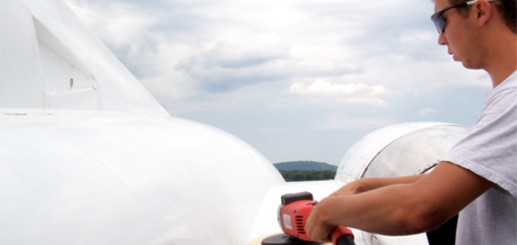 FreshAir Services is the first environmentally friendly aircraft detailing and Aircraft Cleaning specialistin the New England area. Incorporated in 2006 by brothers Steven and Alan Duro, FreshAir Services offers a wide range of aircraft appearance solutions to numerous New England airports. By utilizing only the highest quality aircraft cleaning products and procedures FreshAir has established a reputation for professional service and great client relationships.
FreshAir Services is committed to providing a standard of quality that is unmatched in other aircraft detailing companies. One area that sets FreshAir apart is their standards of employment. Employees are a representation of FreshAir as a company and the standards by which they operate are taken very seriously. We take great care to carefully draft and aircraft cleaning manual which outline all processes and procedures used when working on private planes and corporate aircraft. Each member of our detailing team are required to adhere strictly to the standards set in our operating manual.
Along with other rigorous standards employees are trained and certified in the following areas:
Aircraft Dry Wash
Aircraft Metal Polishing
Aircraft Paint Polishing and Sealing
Aircraft De-Ice Boot Refurbishment
Aircraft Interior Detailing and Carpet Extraction
Gear Well Cleaning
Leather Treatment and Repair
Window Polishing and Scratch Removal
And Many More!