If you're a private pilot. you want the best navigation system available, especially if you own your own private jet. GPS systems have taken the world by storm, as they are used for any place, and for any device, such as cars, trains, bicycles, and airplanes and helicopters. Here are the top 3 Aviation GPS units for private jets.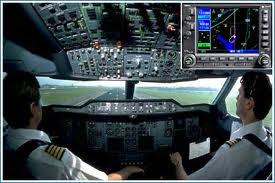 1. If you're wanting to save money, the Garmin GPSMAP 196 or 296 is the way to go. The 196 is the precursor to the 296, and includes colorful, detailed moving maps, exceptional resolution and contrast, incredibly fast scrolling and map redraws. It also has buttons to push, instead of a touchscreen for better control in turbulence. You can automate your logbook with departure, arrival, distance, and flight time. It can also navigate not only air, but land and sea. Turn-by-turn automotive routing and split screen moving maps makes runway centerlines easier to navigate. The 296 builds on the 196 with added features, including, terrain cautions with visual and tone alerts, chart-like topographic maps, built-in obstacles database, which alerts you when you come in contact with buildings, towers, etc… rechargeable lithium-ion battery, and is waterproof up to 1 meter, for up to thirty-minutes submersion
2. The Garmin aera 500 Touch Screen GPS is another great unit for private pilots. Features include 2 or 3D map. turn-by-turn directions, detailed moving maps, and has large numbers, sunlight readable 4×3 in. screen. It also offers: valuable, detailed airport information, such as weather, runways and airplane frequencies. If you like touchscreen, this GPS unit is equipped with a user-friendly touchscreen, which allows you to tap the icons to access your desired page and then drag across to navigate other pages. It also includes Bluetooth wireless technology for hands free use. It too, includes a terrain obstacle page, which also allows a profile sideview, a popular choice for pilots.
3. Bendix/King AV80R GPS has some unique features, as well. It has airspace boundaries and waypoints. The GPS technology also has pinpoint accuracy, down to five meters, and can upgrade to the XM Satellite weather. It has voice prompts, and can be used for aviation or car usage. It's one of the best portable devices for your buck. This GPS device is also touchscreen, and also has a music and movie player, electronic book reader, and photo viewer. The terrain display offers a vertical 3D view, and includes Bluetooth technology. It's also lightweight so fits into a flight bag easily. You can also save flight plans on software, specifically geared for aviation. There are add on optional interfaces, such as traffic, flight guide fuel prices and taxi-way diagrams for easier navigation.
There are many more Aviation GPS units to choose from, depending on your needs and desires. Whichever unit you do choose, it will make navigation easier and more relaxing and fun.